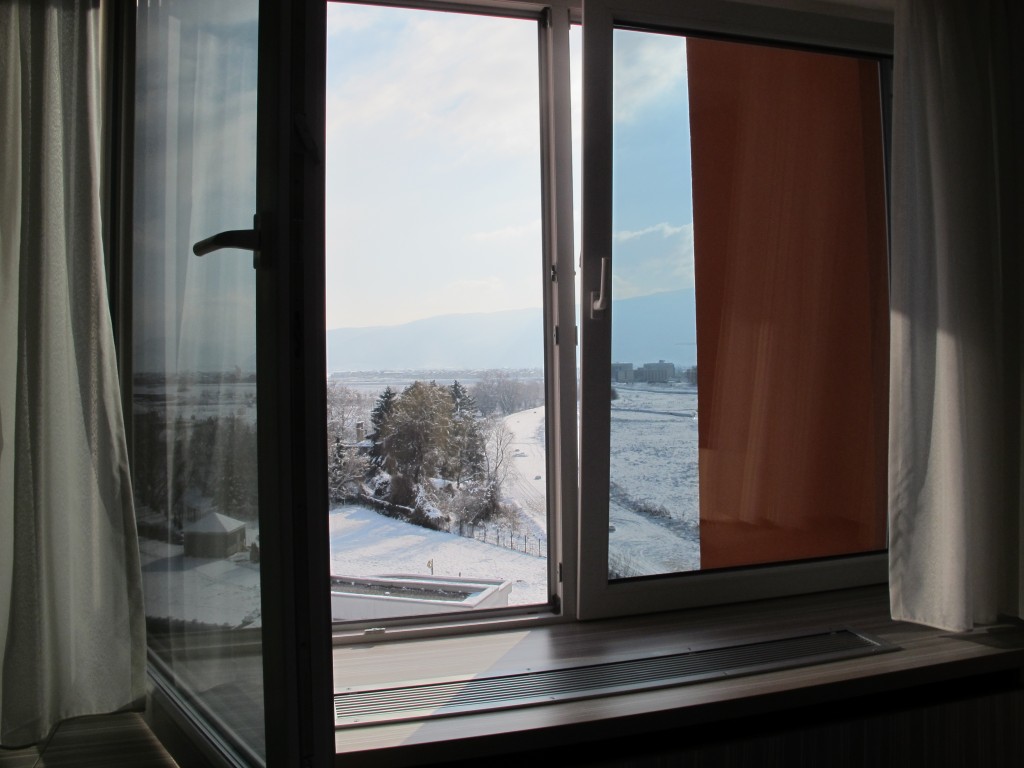 AKH 3la el View I really do miss that View ! my place where I stayed at in Sarajevo – Bosnia.. That was the view that I wake up to every morning ! yeah it was freezing ! and still I did open the window and stood on the bed straight looking at that snow lmah yekfaakhni hawa baariiiiiiddddd 😛 yeqa3dni min elnoom 3adil 😛 Loved that feeling ! enjoyed it while I had it …
My room at Hotel Hoolywood Sarajevo, The capital of Bosnia . you should be excited my lovely readers big posts are on the way ! I'm amazed how I spent a vacation there ! a unique one !  now let's go back to the Hotel …it located close to Sarajevo's green district of Ilidza and 2 km from Sarajevo International Airport, it offers modern rooms with free Wi-Fi 🙂 The rooms were clean and comfortable . a real traveler should get used to stay at regular hotels more than luxury once .. since I've staying at luxury once well it depends on the destination 🙂 Hotel Hollywood is a 4 star Hotel but I loved my stay there . its not about feeling perfect its just about feeling happy even if you cant find everything you are used to have when staying at hotel ..for expample they don't have those little shampoo containers in the bathroom so I broguht mine all the way from home or you can just buy some from the supermarket ! The property is close to the Vrelo Bosne spring of Bosna Riverand to the main Train and Bus Stations so if you have time 7aq souq elbas6at 😛 its close to you ! remember I stayed at the hotel in December 2011 which mean in winter season ..I heard that you can see more green beauty around you If you stay at the Hotel suring summer season … let me show you a  little about my stay ..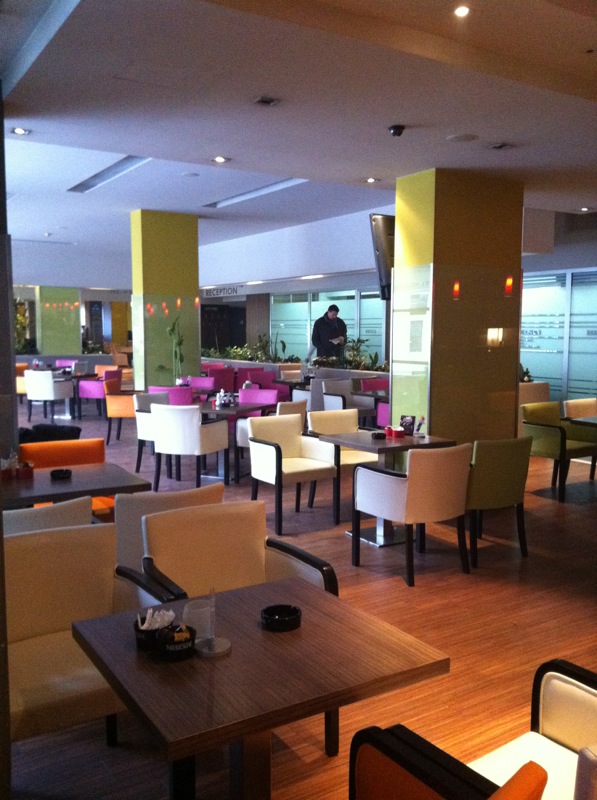 Once you enter the Hotel , you will find this wide seating are in the Lobby , usually smoky 😛 with all the smokers smoking 😛 I will talk about this later in a special post 🙂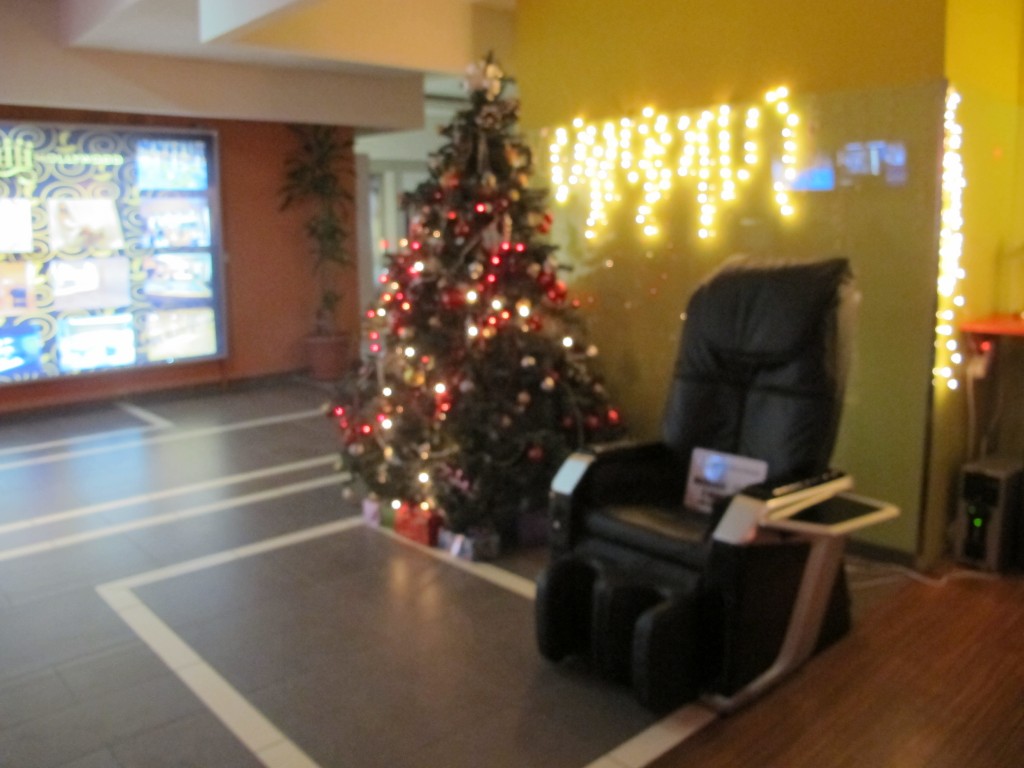 they had this small christmas tree placed in the Lobby with this massage chair 🙂 which I don't usually see in other lobbies
Now to my room ( elktkooota ) I stayed in the room a week ! loved everything about the room ! it was my second time to have a room all for me when I travel ! so I did the dance once I entered the room 😛  the location of my room was perfect ! like the last one in the hallway ! 3jeeebah 9adah so I could play all my music o ana merta7a 😉 its a small one and reminded me of the rooms of Cumberland Hotel, London ..bs theelak qamta mako hawah 😛 hatha laaa even with the heating system still there is air to breath .. nefaha 🙂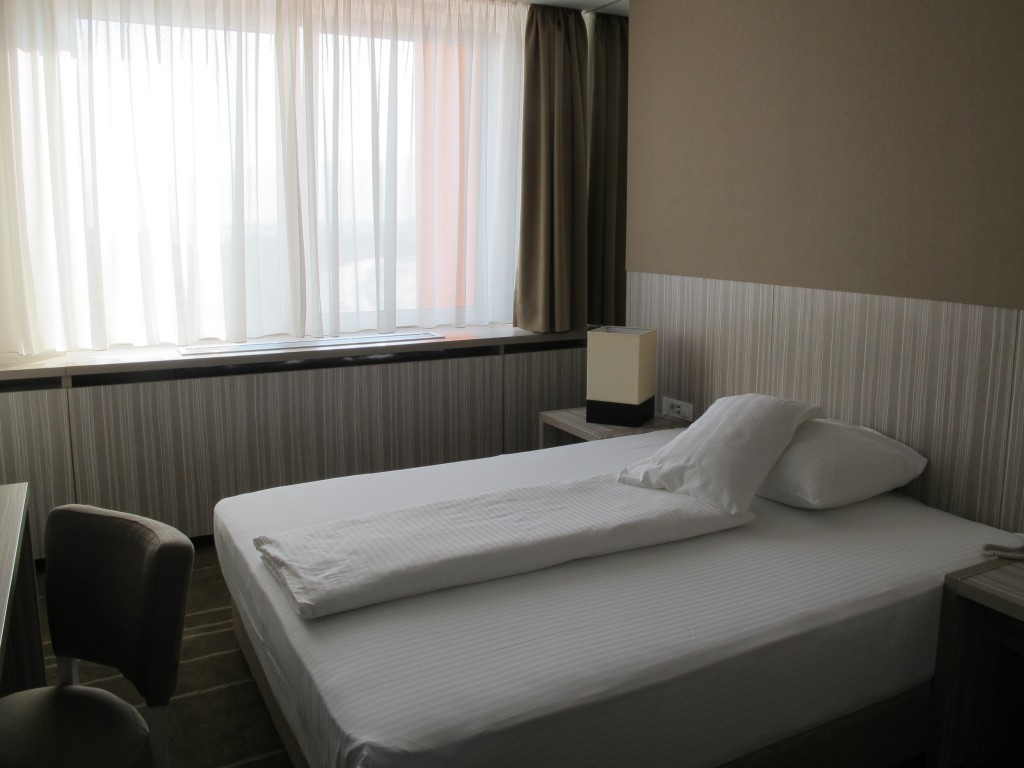 Ok if you are following on Instagram you already seen this LOL 😛 I just couldn't get the style of the bed arrangment ! mani fahma el7arakah bthb6 LOOOL but as long as its something new to me Im cool 🙂 everytime I go out and come back to that room I smile at that bed LOL ..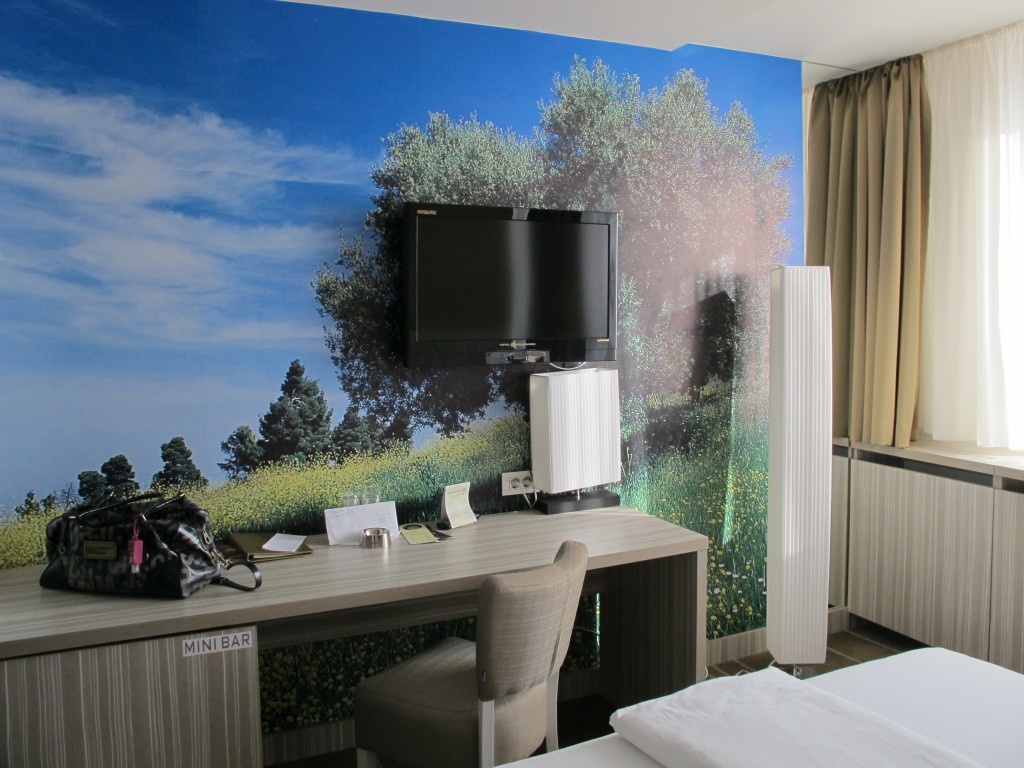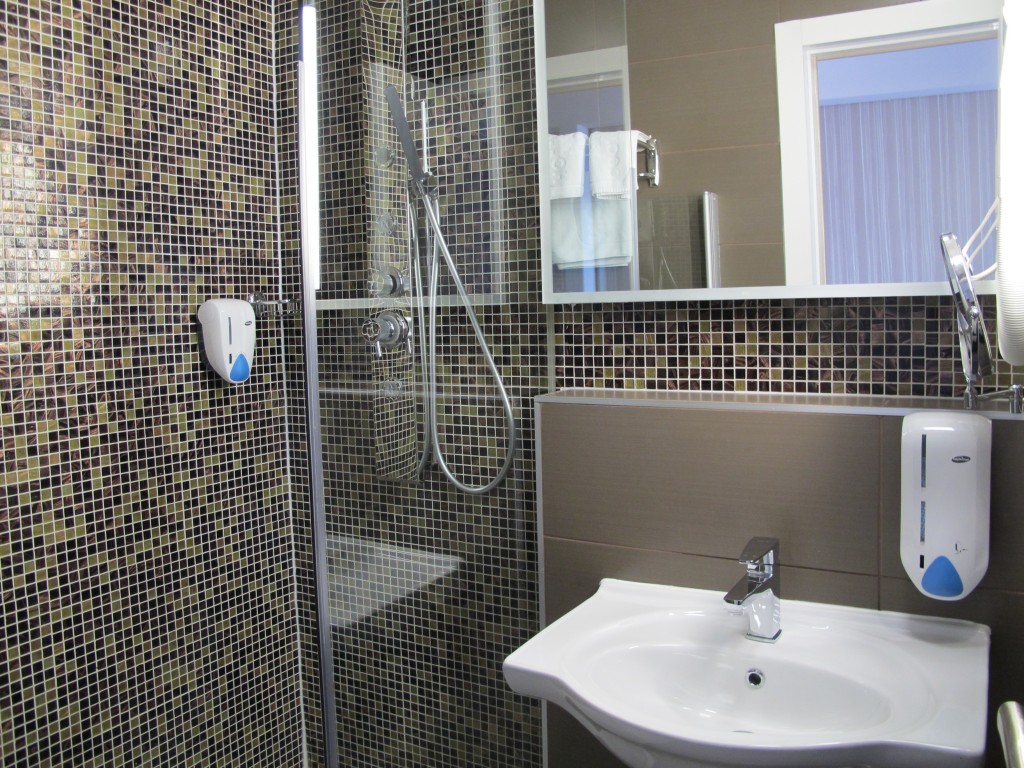 as for the View of the room I will bring it into details in a special post ! shay khyaaaaal I got many photos during different periods of time! I woke up in the middle of the night to take some ! you will see them soon …. Let's check the breakfast Buffet which I described in my tweets in twitter as a breakfast in a military camp 😛 I didn't like it much but as so many of you know me I don't like to focus on the things I don't like on a trip ..we have options there are many places to have breakfast and also to buy breakfast supply from the supermarket ..I'm traveling why bother myself that I'm not having the perfect breakfast ! sa7 wela la 🙂  I managed to love the toast, Jam and cheese and some fruits everyday as my breakfast not to forget the cup of coffe that I kept rinking althought it doesn't feel like real coffee 😛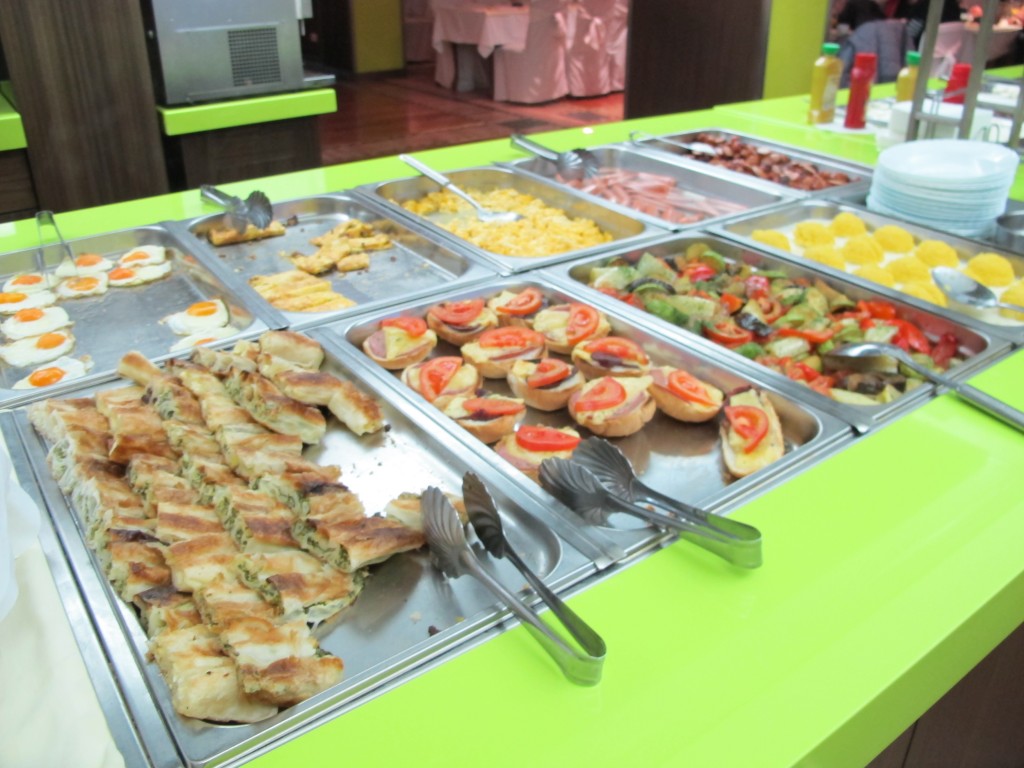 o hatha kaan ryooqi elyawmii 😛 el emrabah mo 6bee3iyaaaaah ! the Jam tasted amazingly that I took some with me back home 😛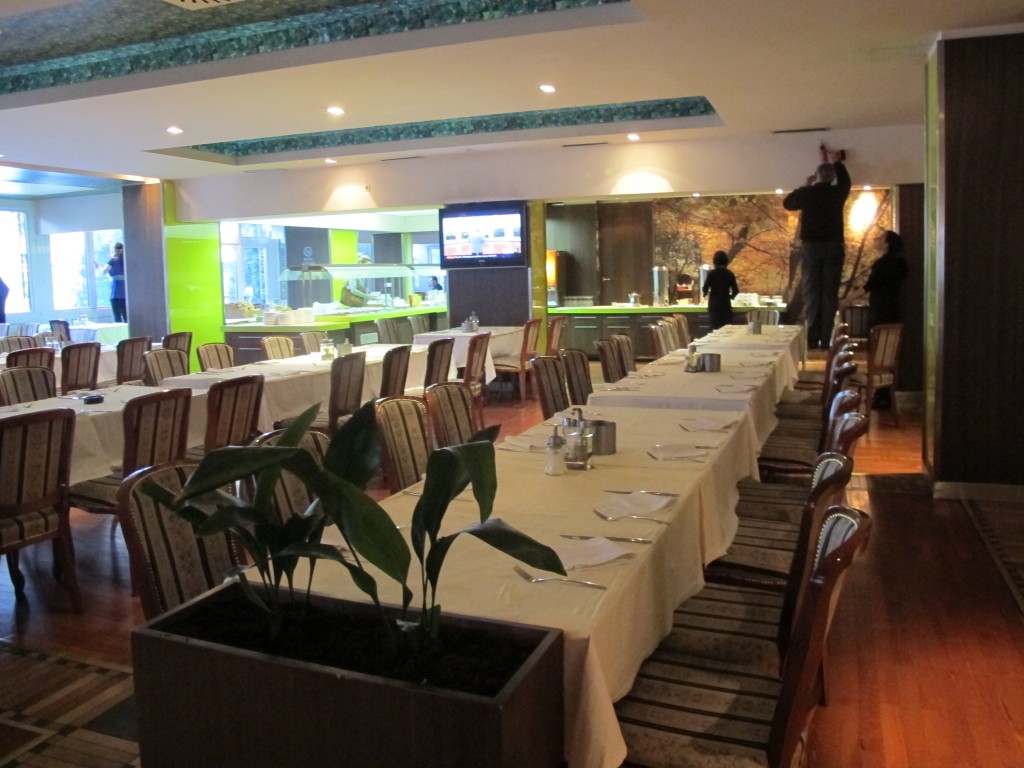 The breakfast Hall ..jini dasha 3ers la etshofoonha o jnhaa za7ma m3a ashabeeh el awadem ham jna egtema3 russian mafia 😛 o ana thay3a bil ne9 LOOL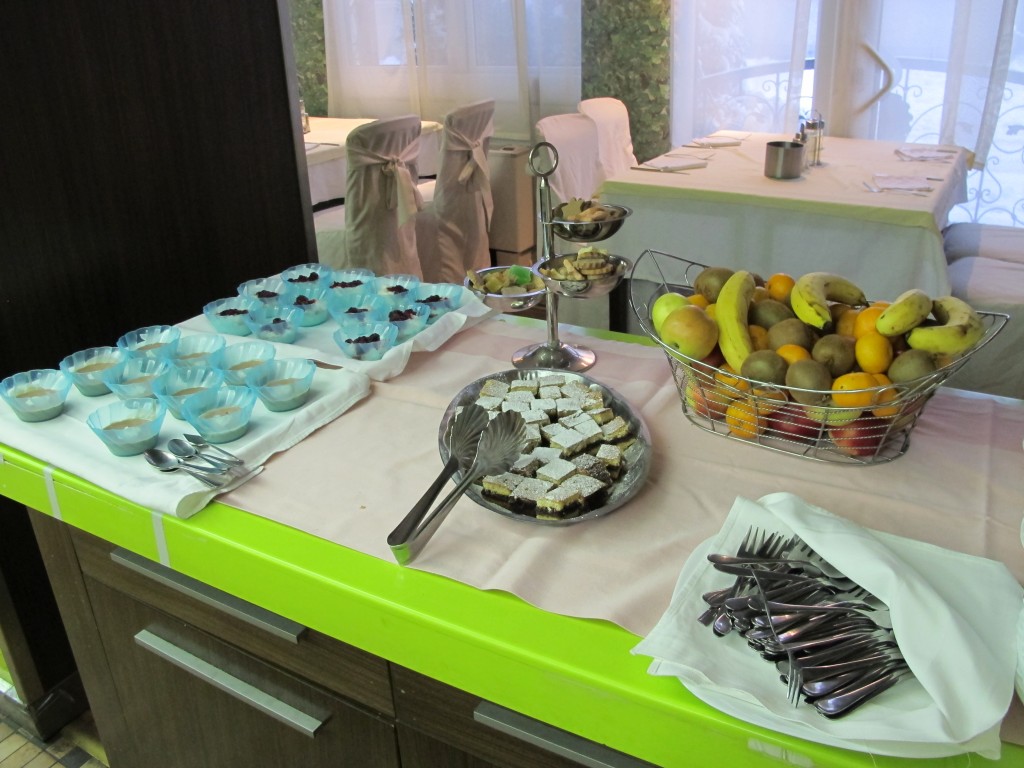 Don't know what kind of desserts are those bs jena shay jna custard cream …haven't taste it but I take my share from that fruits basket everyday 🙂
Now will I stay again at this Hotel ? yes I will , why ? the Location its next the airport located in the beginning of that main street that connects the Cpital Sarajevo ..wait Haven't I mentioned the price ? oh its the cheapest rate I paid in my whole life for accommodation in my whole Life ! 30KD Per night That's almost 100$ per night ! isn't that cheap !! imagine that in the high season were are tlaking about december huh that's when it becomes a low season 😉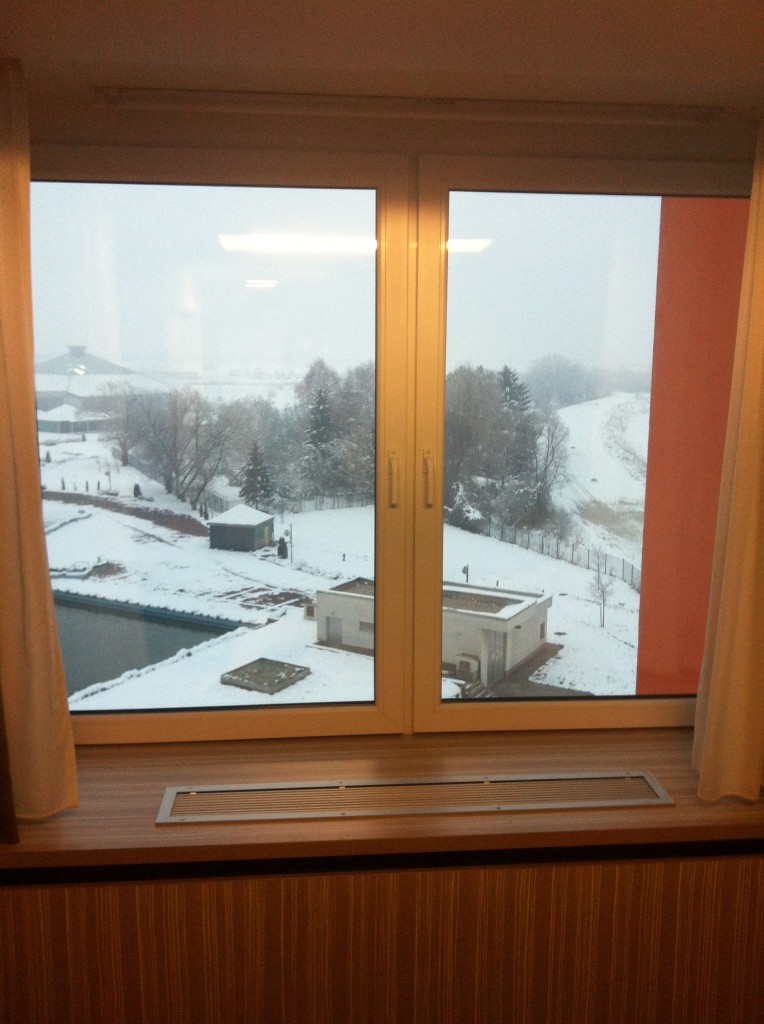 coming up Next get ready ! Im taking you out there to see Bosnia … Sarajevo …for the cold for the freeze …for the adventure …for the passionate travelers ….we are going to explore Bosnia 😉