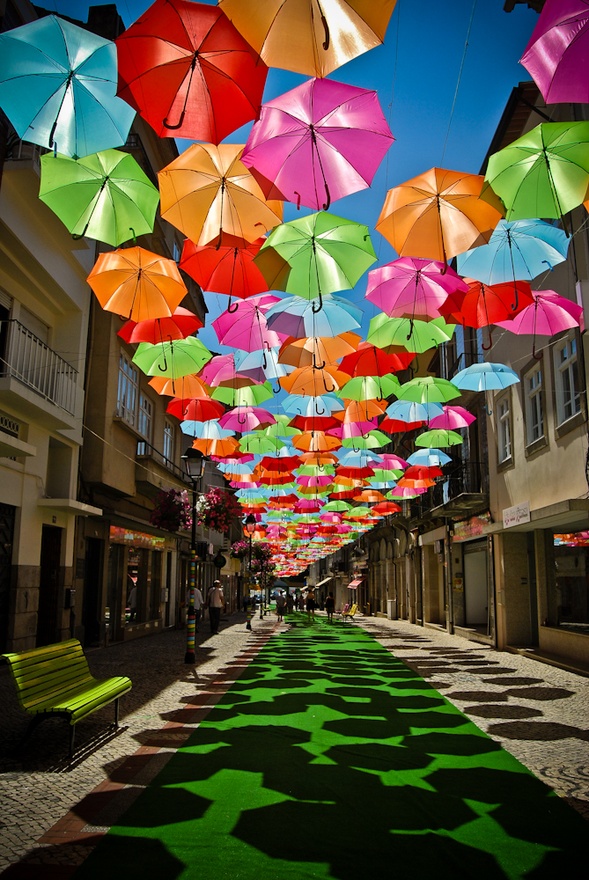 WOW ! I couldn't find the perfect words to describe how beautiful and creative this is !! The Sky is always beautiful , except when it gets stormy sometimes .. but usually when you look up you're eyes are pleased, your heart gets happy and your soul is relieved by watching the big wide sky ! but How about adding something to that Sky in a simple creative way !!! Well, when I was looking around photos in Instagram I have found one amazing photo that has been added to Portugal Hashtag ! So I searched about it on the web and have found this !!! what is the secret of these Floating Umberellas !! and are they really in Portugal ? Well it turned that  Patrícia Almeida " Flickr photographer"  recently shot these great photos umbrella art at some streets of Águeda  (a Portuguese town) during last July 2012 . Many News and Travel Websites have covered this amazing work describing it as something out of a fairy tale, by the way those colorful umbrellas looked ! almost like they are magically floating in the air, looking at those photos reminded me of Mary Poppins! Patricia, The Photographer called it Umbrella Sky. Loved that describtion !
شي حلو مر علي بالانستغرام بالصدفه .. لقيت صوره شماسي ملونه معلقه في شوارع ! وايد اعجبتني الفكره بس ما كان مكتوب تحت الصوره اي تعليق يدلني لقصه هالشماسي المعلقه ! دورت عن الموضوع بالانترنت و لقيت انه واايد كاتبين عنه المواقع الاخباريه و مواقع السفر .. قصه الشماسي انه معلقينها في احدى المناطق الصغيره في دوله البرتغال ! في بعض المصادر تقول انها حركه حلوه من ضمن مهرجان فني في هالمنطقه .. واايد تعجبني هالحركات الحلوه و البسيطه و الي فيها ابداع و لو كان بسيط بس أثره بكون كبير .. شكل الشماسي الملونه و اهيا متعلقه بالنص بين السما و الارض شي ما نشوفه و لا يخطر على البال ! الي كان لها الحظ انه تصور هالشماسي اهيه المصوره باتريشيا اميدا و الي لها حسابها الخاص في فليكر ! ماشاء الله الصور كلها اتينن ! اشلون اذا كان الواحد صج واقف تحت هالشماسي.. ودي يكون بيدي كوب قهوتي و اقعد على واح من هالكراسي الموجوده بالشارع و استمتع بمنظر الشماسي  !  
 here comes more photos of the beautiful art ! I wish I could reach the person who thought of such a unique Idea !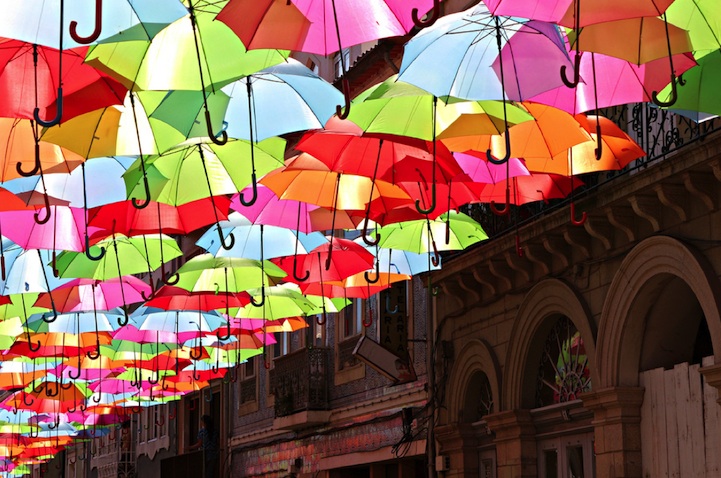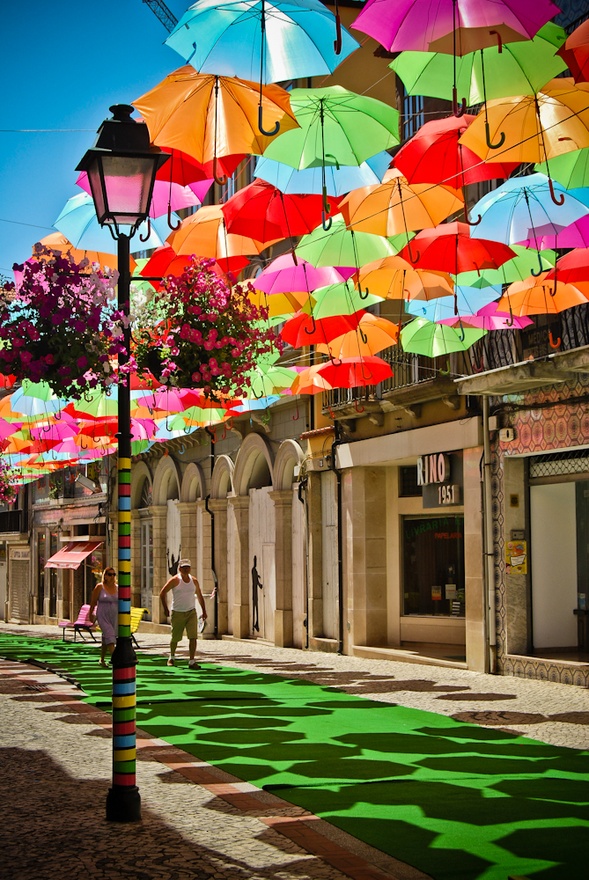 All of the above photographs were taken by Patricia Almeida
I wish if they keep those umberellas forever ! So I could visit that place one day and take my own photos ! 
 To read more press on the DaliyMail لقراءه المزيد اضغط على الرابط