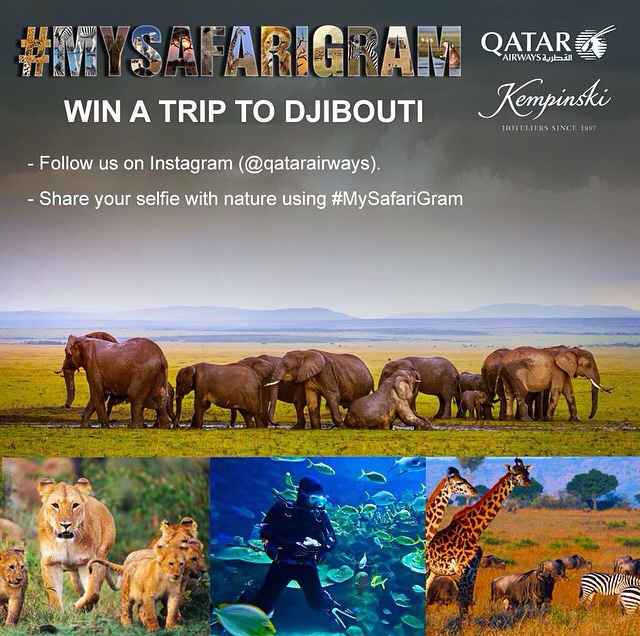 Do you want to win a trip ?
Well who says No to to  a free short getaway 😛
Checkout  Qatar Airways latest competition on instagram @qatarairways
#MySafariGram #selfie #competition
for a chance to win an unforgettable trip to Djibouti.
All you need to do is upload a selfie of yourself taken anywhere in nature (jungle, garden, forest, or desert) with the hashtag #MySafariGram in instagram.
The prize includes 2 free tickets on Qatar Airways and a complimentary stay at the Djibouti Palace Kempinski for 3 nights.
Winners for the prize will be selected randomly.
For more information about the competition, please go to http://bit.ly/mysafarigram
  من وده برحله ابلاش ؟ ما اعتقد في احد بقول لا لسفره ابلاش حتى لو كانت قصيره
الخطوط القطريه مسويين خوش مسابقه و سهله على حسابهم في انستقرام
خوش فرصه  للفوز برحلة معاهم
 المطلوب :تحميل صورة #سيلفي خاصة بك مع استخدام الهاشتاق
MySafariGram#
الجائزة تتضمن تذكرتان مجانيتان و3 ليالي في فندق جيبوتي بالاس كمبنسكي.
سيتم إختيار الفائزين عشوائياً
. إضغط على الرابط التالي للإشتراك بالمسابقة: